Jackson : same but different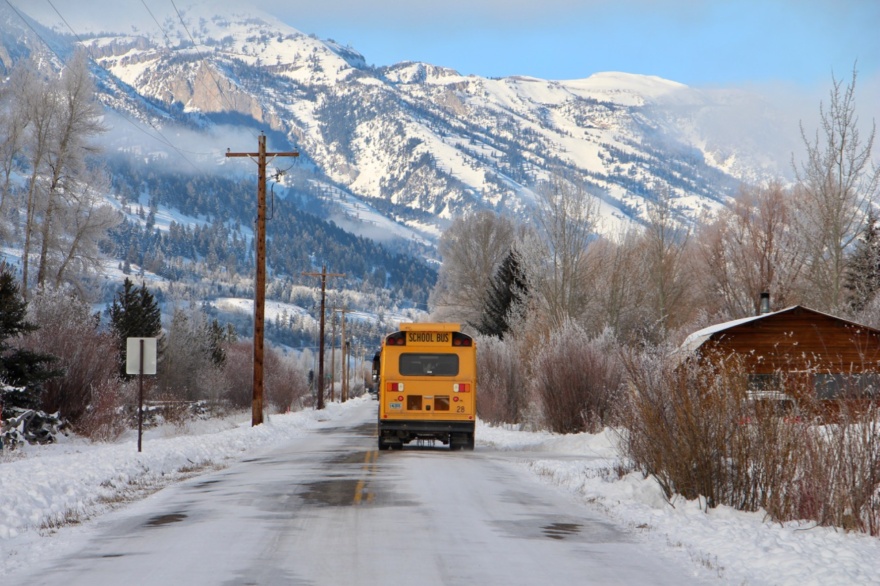 Fifteen days after arriving in Jackson Hole, Wyoming, I can already deliver some strong impressions and share them with you.
Monday, January 22nd, 2018
Wilson, Wyoming, USA
These will probably vary over weeks and months, when I will be more immersed in the American culture and I will then find weak points. But it is not the point not now.
Because as soon as you arrive in Jackson, life is very pleasant. Simple, relaxing and yet sporty. The impression is far from the clichés we usually have about America.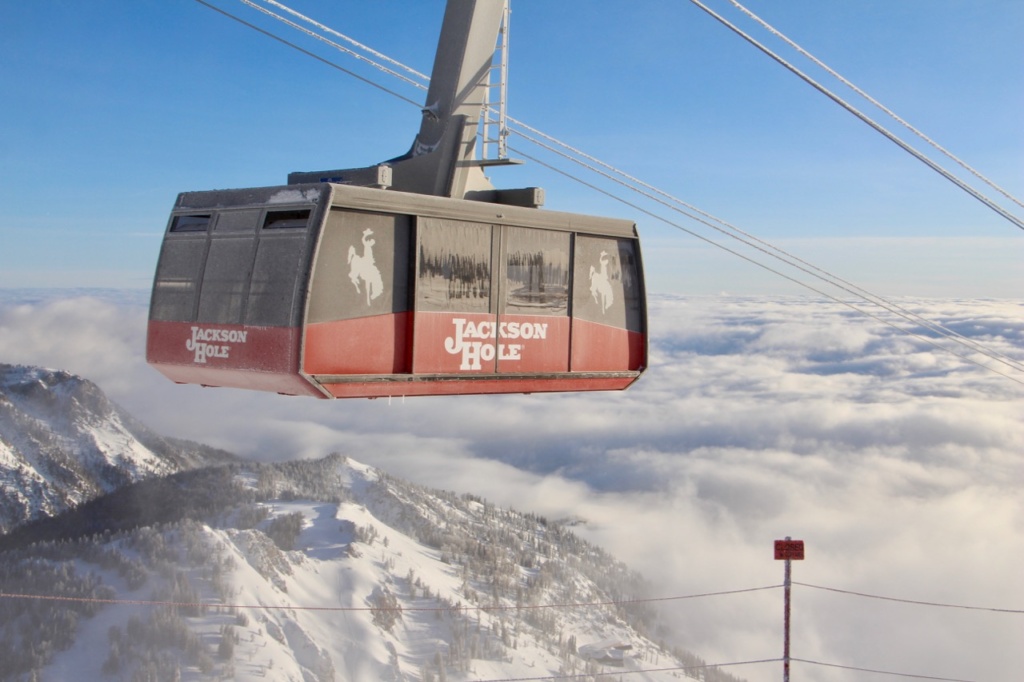 I arrived in Jackson, Monday, 8th January, after 20 hours travelling. 3 flights, some waiting hours and a long stay at the Denver customs because of my J2 visa….Then I arrive t the small airport in Jackson, Wyoming.
Ran was wainting for me of course because he was excited to show me this little part of America, that he had experienced for 2 months.
Out little village : Wilson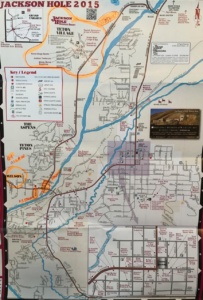 We live in Wilson, a small village 5 miles away from Jackson Hole, in a pretty wooden house.
The owners are our renters: Alex is a ski patroller and he has already made an exchange in Tignes with his wife in 2000/2001. Christine, his wife, works in real estate, especially in housing development programs for residents.
The village of Wilson has a similar configuration as our village Seez: located 10 minutes drive from Jackson downtown, Wilson has a few small shops: a post office (which opens at 7:30 in the morning), a grocery store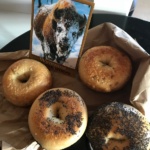 and a very good 'bagles shop': You can have your coffee with deliciousbagels: these are round rich breads, salty or sweet, perfect for breakfast or brunch.
We rent this nice apartment, tastefully decorated and very cocoon: the view from the apartment is fantastic and the meeting point for employees shuttle is just 2 minutes by car.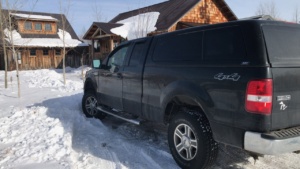 We have  traded our car with Jeff who left us his huge 4×4 Ford (I have trouble climbing in and we try not to do slots here).
We have already taken our routine : wake up at 6am, then we have breakfast with « bagles » or pancakes and I drive Ran to the bus, so I can have the car.
A well-organized shuttle system allows skiers and employees to go to the resort or Jackson downtown without a car.
The town wakes up very early and its inhabitants also, what is very pleasant: there are gym classes at 7am and the swimming pool opens at 6am. Even the library has events inearly morning!
The counterpart: the invitations to dinner life make for 6 or 6.30pm….Hockeys matches, concerts or parties start around 7pm…. but we can go to bed at 10pm 🙂 . It's not bad too.
Once Ran takes the bus, I come back home to work at 7 am: perfect to work with France or to hear from friends and family.
If I do not go skiing, I drive to Jackson, to work in the Teton library or to go shopping (we have to eat and wear our clothes….)
The small town of Jackson Hole is very friendly, designed around a central square and shopping malls all around, rather with very classy shops.
The little buildings and shops look like saloons, which is quite normal for a cowboys town with multiple ranches all around.
Many commercial areas are located outside the town but not far away.
Eat and drink in the American style
Of course, we all have this special idea that the average American only eats popcorn, ice cream and hamburgers and drinks only beer. And so all Americans are obese.
It's true and false at the same time.
True because it is very easy to eat hamburgers or pizzas in local restaurants (there are few fast foods here but saloons or bars that serve quite rich dishes with always bread and meat).
True because the ski patrollers trackers eat popcorn during the day, at the bases.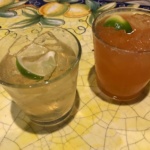 True because there are lots of beers here, including the local beer: the Melvin and the IPA. But there are also delicious cocktails, including my  favorite one Moscow Mule (Vodka, ginger and lemon beer) or spicy margarita (Tequila, Triple Sec and lime).
False because we eat very well everywhere we are invited: vegetables, small light dishes and good wines. People here are fans of fondue (Savoyarde please), French cheeses and wines. (Californian and Argentinian wines are very good).
Ran has made fondues with emmental ($ 10 / 200lb): but everything was there to make a good fondue. The dry wine, nutmeg and garlic … Okay, the mustard is a bit strange but we settled and we brought the Genepy from home.
In terms of food, I want to bring down the myth of American junk food. It exists of course (as well as in France) but it is very easy to eat well. The supermarkets are full of vegetables and fruits (yes I promise!) And meat and fish are excellent. We eat very well when we are invited.
Okay, sometimes it's strange in restaurants: for example I ordered meat with « french chips ». And I was really served chips with my meal !
Anyway, we will not miss french food as much as we imagined.
I met very few fat people: people are sporty and eat healthy. Jackson is probably a « bubble », a place apart in the US: but for us, it's the perfect counterpart of our life in France, in Savoie.
As for drinking, it's not bad either:
We buy alcohols in liquor stores, in which we find a lot of different wines: Argentina, California, Australia, France ….Here in Jackson (a special fact in Wyoming) you have alcohols drive aways , so that you take your beers when staying in your car…
But the prices are quite high, around 9 dollars for an ordinary bottle of wine.
We're in Jackson anyway! and life is more expensive there than in the rest of the US. But the high prices are often explained by the big packaging : the orange juice and the milk in 2 liters, boxes of coffee or chips are very large … ..
Some highlights after 15 days in Jackson Hole, Wyoming:
Ici tout est grand :
Comme les conditionnements au supermarket : les paquets, les boîtes, les bouteilles : tout est plus gros. Le jus d'orange et le lait en 2 litres, les paquets de café ou de chips très grands….. Dur, dur quand tu as un petit frigo….
Quand tu prends une bière ou un café…c'est toujours deux fois plus gros qu'en France.
Les voitures bien sûr comme notre gros truck, avec lequel il me faut un escabeau pour monter dedans.
Les parkings sont immenses, les toilettes, les routes, les magasins, les maisons….
Here everything is big:
The supermarket packagings, When you take a beer, a pizza  or a coffee …it is always a big size.
Cars, of course, like our big truck, for which I need a stepladder to get into it.
Here everything is simple, easy and quiet: 
The subscription to the library and the pool are done in 5 minutes on presentation of a proof of address on my phone: we get the resident card for 2 years (if maybe we stay … .)
If your forget your skipass, it is very easy to have one for the day : Ran experienced this and the smily girl at the guest service redid his pass for the day (with a big smile and in 20 seconds). No problem !
The swimming pool where you can have a jersey if you have forgotten yours, shuttles that circulate all day in all directions, shops that do not close between noon and 2.
I can access the MOB (central place for workers in the resort) and leave all my equipment, I go in or go out without being asked anything. I can take the first tram every morning with the ski patrolers, cause they can invite 3 people every to make the first tracks.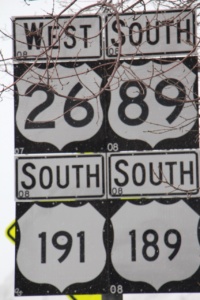 People drive slowly, respect speed limits. Nobody doubles you or makes lighthouse calls by giving you a finger (do you know what I'm talking about?)
People talk quietly and do not get mad in offices or stores.
The bureaucracy is very simplified and it's very nice: I subscribed to a phone package in 5 minutes, I could have the subscription card (free) to the Library (library) in 5 minutes on site, simply showing my ID and proof of address.
For work too, Ran appreciates simplicity and efficiency:
he receives his payslip on an online application. He consults every evening an answering machine informing him for his schedule. He knows if he needs to go for a snow control.

Here everything is so beautiful!!!!!!!!!
Nature surrounds us and is so great.
Nature is everywhere around : forests, great meadows, peaks, mountain ranges as far as the eye can see… the Grand Teton National Park with its vast areas for cross-country skiing, ski touring or snowshoeing.
Yellowstone, just there, not far but still almost inaccessible in winter: it will be discovered little by little.
We know he mountains, but here they are different, majestic. Awesome !
The sunrises from the top of the ridge give me tears in my eyes.
I am also told about the many animals that are here very close. I only saw horses, hinds and elks but I'm waiting to see my first Moose up close. They sometimes run around the house and we could come face to face with this famous Moose.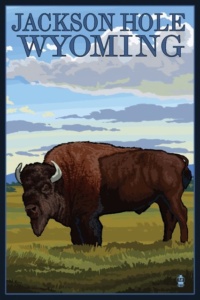 Bison are also  a few in nature and around ranches (buffalo being the icon of Wyoming and Jackson Hole).
Bears :we can maybe see somme in the  spring when they will be out of their hibernation … ..
So my camera stays with me all the time, just in case … (as usual you will say …)
So, everything looks like the place we live in Savoie but everything is different.
Grand Teton National Park website
Now, what about working here ? it is necessary to work so….
I am very confortable in our small apartment with a view to make jealous my colleagues in the french resorts !
Despite the 8 hours difference with France, I can do my paperwork and my french job.
I wanted to work here but it seems to be difficult without a visa. I will try to be a volunteer on the slopes…..
But there is a little problem (at least !) : the wifi is very bad.
No matter, I can go to work at the Teton Library with my subscription. I can then go out and meet people during the day.
I can book a very well equipped study room and access wifi for free.
But there is also wifi everywhere here, in all the duty bases, the shuttles, the lifts departures, in the bars: nothing complicated with the wifi code : it is free and open.
And nobody ask you to consume if you want use the wifi.
When I told you that everything is simple here!
The things that really change from our previous travels is the « immersion » in the American life,
the routine  …as for everybody living here.

We are not traveling, we are not on vacation but we are staying for a long time. And that changes everything: we take our time, we know we can do everything.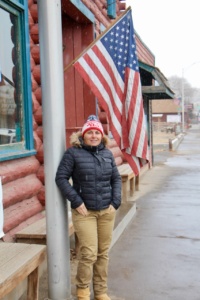 Jackson is not « the normal » America even if the big cars are here: Jackson is a rich town and its people live comfortably. No violence, everyone leaves their home and car open.
No obese, no burgers at every meal. It's quite the opposite.
With invitations to locals, we have enjoyed few varied meals with lots of fruits and vegetables. They love French wine and cheese and are happy to buy « French baguettes » for $4 anyway!
Well, you'll tell me, it's too wonderful to be true?
I am thinking that also …
We really have an extraordinary chance to live this experience and I hope that the fallout will not be too hard….
To complete this article,  here is a nice photo gallery …. of our american dream!
Next upcoming episodes with other themes:
– people
– sport
– skiing